DERMEO is in constant development and benefits from the expertise of ISO 13485 certified bodies.
The ISO 13485 certification specifies the requirements for Quality Management System for the medical device industry. Compliance with these individual international organizational standards is a guarantee of quality for DERMEO's customers and suppliers.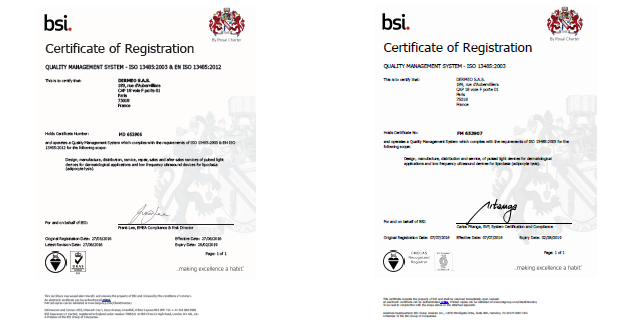 Evolutionary technology
DERMEO's medical pulsed light devices are the first to benefit from the French medical CE class IIb, in compliance with applicable regulations. This level of regulation requires the expertise of a body authorized by the European Commission to audit the quality of DERMEO products and services.
Markings and International Healthcare approvals
DERMEO has received the CE mark and its medical devices are approved by many health Ministries around the world. Also, it has been cleared by the FDA (Food and Drug Administration) for the United States of America, Health Canada (HC-SC) Ministry and the Australian Ministry of Health (TGA) as well, which proves their efficiency and safety.